You may want to move your office for several reasons, such as downsizing or needing additional space. No matter the reason, removal is not easy, especially when you're a business owner with so much on your plate. Many issues could be involved, and the process can be extremely overwhelming if you have not relocated before.
Storage Accord provides office removals Balham services to make your removal easier. Your office may comprise several pieces of furniture, printers, shredders, computers, etc. Packing and moving all on your own can be a daunting task, and our team will help you in many ways to make your move successful.
We Take Stress Out of Your Removal
Moving and organising an office move is highly stressful, especially when you don't have a clear plan. Hiring our office removals services in Balham will enable you to move without you having to worry about the entire logistics.
If you are unsure where to begin, let the experts handle everything and help you focus on other important tasks.
How can Storage Accord Help?
No matter the size of your office, we can easily handle and relocate anywhere in Balham.
We possess the expertise and adequate knowledge for packing and moving your belongings.
We will provide a coordinator to all our customers to make sure their removal is not marked by some untoward incident.
Reasons to Hire Professionals for Your Office Removal
Relocating to a new place might be fun, but the packing and moving part? Not so much. Therefore, let us move your office while you sit back and relax, knowing you are in good hands.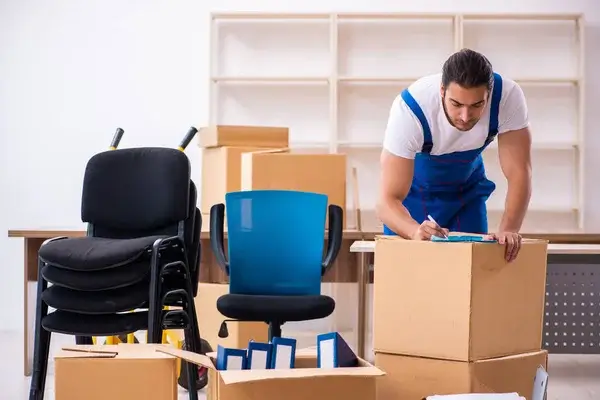 Our trained team has the complete skill set to handle the removal process, ensuring everything is transported in one piece.
Here are some reasons you should always hire a professional for office removals Balham, apart from a stress- and hassle-free moving.
While you may be an accomplished businessperson, you will not be likely as good at moving. Our team for commercial office removals in Balham has helped relocate several offices, so they are completely aware of the requirements. We know how to deliver your furniture and equipment without a hitch.
There is a lot to consider when planning and organising an office removal, such as things like wrapping computer screens and other equipment properly; our team will professionally organise the entire process, whether it is packing or moving.
Storage Accord is a reputable and trustworthy office removals company in Balham; we are known for transporting equipment and furniture without damage. On top of that, we provide the right packaging material and use them in a way that there is no breakage during transit.
Saving time is one of the biggest reasons to hire an office removal company. As a business owner, you would not want to lose your profit and expect to keep it going even during shifting. Hiring professionals will allow you to focus on important tasks while we expeditiously transport your belongings to the new place.
We understand that each item is valuable to you in your office. There are greater chances of mishaps while moving; therefore, getting help from our professionals can be extremely beneficial, as they are completely insured to deal with your belongings.
For office removals Balham, we have proper vehicles, packing boxes, supplies, and gear to efficiently relocate your belongings. If you don't have these things readily available, don't worry, Storage Accord has got you covered.
Office Removals Balham: A Pocket-Friendly Service
When it comes to office removal, the cost may be one of the biggest concerns for you. While you may think a removal service is an added expense, we assure you it's an economical option in the long run.
While offering the most affordable office removals in Balham, our skilled removal team can help you relocate quickly and with minimal disruption.
Storage Accord: One Step Ahead of Others
Though reasonable and with competitive prices, we never compromise on quality.
We take care of every minute detail while relocating your office.
We plan and organise in a way that nothing will be skipped or forgotten.
Our team is experienced and qualified; they will deal with and face any query efficiently.